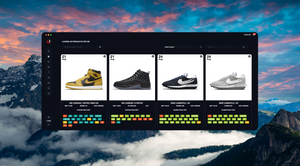 Designed for those who want to take their SNKRS game to the next level, uSNKRS is by far the most successful SNKRS Bot on the market. With an outstanding win rate, access to calendar information, scheduled tasks, exclusive access checker, numerous entry methods, and unique task fingerprinting, it's the only SNKRS bot for a SNKRS fan.
500,000

+
Pairs Secured



$75,000,000

+
Spent
Let your eyes choose.


We load the products, stock, price, dates & anything else you need to cook SNKRS. Pieced together for you in a beautiful Calendar layout, you can easily create tasks and decide which sizes you want to enter for based on stock, to give yourself the best chance of securing a win. Our recent Polls addition also allows you to see upcoming questions on Live Shows and Feeds, ready with answers. Never be unprepared again.
More zzz time.


Given how early SNKRS drops are scheduling tasks was a feature we had to ensure our users had access too. Setup your tasks to start at the optimal times the night before and let uSNKRS do the rest for you. With advanced options to spread out tasks to conserve resource usage, you have everything you need to cook away from the desk.
It's never been more important.


With a major jump towards Exclusive Access for drops like the Off-White and Travis Scott release, an Exclusive Access Checker is essential. In a few minutes you can check all your accounts, detailed information about the time you're able to purchase and product you have access to will be shown to you.
uSNKRS is ever evolving.


We've pushed over 100 updates in the past 9 months, adding features our users want. Take a look below at some of the other features our users have access too:
Super Quick - Built with lightweight JS, your able to manage all your needs with speed
Unlimited Tasks - No task limits run until you hit your own performance limit
Lightning Quick Support - Join our Discord after purchasing and get instant support from our team
Statistics Dashboard - See at a glance your entries/wins historically or for the day.
Notifications - In app notification when you secure pairs, and remote notifications for when you're away from the desk through Discord
Speedy Entries - With our Preload Mode, we can enter your accounts seconds after the draw goes live
App Based Entries - With our new Request based entry process, we can enter your accounts in seconds through the SNKRS App API
Multiple Site - Supporting both Nike.com & SNKRS draw releases.
Quick Edit Tasks - Edit any task with one click
Proxy Testing - Check and validate proxies before using them on tasks, save validated proxies with real browsers loading times
Account Testing - Check and test your nike accounts ensuring they login
Multi OS Support - Native downloads for both MacOS and Windows
Extra Devices - Use 2 devices as default with each license, and purchase extra devices at anytime for a 1 time fee
34 Countries Supported.


If your country isn't below send us a message. We'll see if we can get it added for you.
Australia
Austria
Belgium
Bulgaria
Canada
Croatia
Czech Republic
Denmark
Germany
Finland
France
Greece
Hungary
Ireland
Italy
Luxembourg
Malaysia
Mexico
Netherlands
New Zealand
Norway
Philippines
Poland
Portugal
Romania
Singapore
Slovakia
Slovenia
Spain
Sweden
Switzerland
Thailand
United Kingdom
United States
Everything else you need to know.
To use uSNKRS to its full potential, you will need multiple Nike Accounts, set up with unique details, as well as proxies to enter each release. Buying uSNKRS does not guarantee you a pair on Nike, it helps increase the odds on you winning.
Completing purchase/download for uSNKRS binds you to the following Terms.
Terms: uSNKRS and its content, features and functionality are and will remain the exclusive property of uTools. uTools software is not to be redistributed or resold without prior consent from uTools. uSNKRS and any extending application/software will be updated by the uTools team as they see fit. Purchases/Fees are non-refundable, once purchased account login details will be emailed to the email used to purchase the application and only this email. Once purchase is complete, we are not able to cancel any order. Failure to renew your license will result in termination of access to the software
Screenshots